Certification Scheme for Food Safety Systems
FSSC "FOOD SAFETY SYSTEM CERTIFICATION"
The FSSC 22000 - Food Safety System Certification 22000 is a comprehensive Certification Scheme for Food Safety Systems managed by the non-profit Dutch Foundation for Food Safety Certification.
It is based on the International Standard ISO 22000 "Food Safety Management Systems - Requirements for Food Chain Organizations" and ISO / TS 22002-1: 2009
'Prerequisite programs on food safety for food manufacturing'.
GFSI recognized FSSC 22000 on 23/02/2010 for the industrial and craft processing and production of animal and plant products (food and beverages) and long life products (ISO / TS 22003 categories C, D, E & L) and accepted it as equivalent to IFS and BBC. This means that for the food industry and crafts the FSC22000 as a quality system certificate will have the same value and acceptance as IFS or BRC.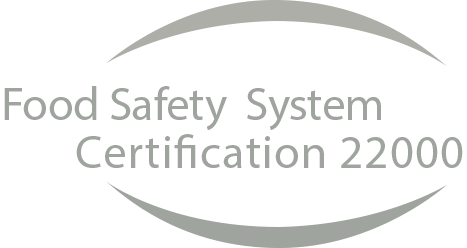 Indicative benefits of implementing and certifying a System based on the company's certification scheme:
/
The main advantages of the FSSC 22000 are its recognition by the GFSI as equivalent to the BRC Standard for Food, IFS Food Standard and SQF 2000 Code systems, while being a security-oriented system without imposing any particular requirements on the quality of food, which is likely to be an asset of the system for a business that wants to focus on food safety.
/
Competitive advantage of export businesses to enter into partnerships with supermarkets and other businesses as they can demonstrate compliance with the requirements of a scheme accepted by the world's leading food businesses.
/
Businesses that already apply ISO 22000: 2005 and their logistics are one of their strengths can easily upgrade their system and meet the requirements of PAS 220: 2008 to obtain FSSC 22000 certification.
/
Confidence among consumers and other stakeholders on the ability to detect and effectively control food safety risks.
/
Better and continuous monitoring and enforcement of relevant legislation.
Interest Form
Fill in the following form and a representative will contact you soon!